PHILIPPINES WEATHER DISCUSSION AND FORECAST
METRO MANILA FORECAST (based on GEFS Ensemble model)
Date [TIME] [UTC]
Rainfall (mm)
Temperature (°C)
Windspeed (km/hr)
MSLP (mb)
20.01.2017 12
0
25.3
16.92
1015.1
20.01.2017 18
0
24.6
12.24
1014.6
21.01.2017 00
0
25.6
15.48
1016.2
21.01.2017 06
0
29.3
21.6
1014.4
21.01.2017 12
0
25.5
15.48
1016.6
21.01.2017 18
0
24.3
7.92
1016.2
22.01.2017 00
0
25.5
9.36
1017.5
22.01.2017 06
0
29.3
20.16
1014.7
22.01.2017 12
4.3
24.7
13.32
1016.9
22.01.2017 18
3
24.7
12.24
1015.1
23.01.2017 00
16.6
24.5
13.68
1016.8
23.01.2017 06
17.7
24
22.68
1015.1
23.01.2017 12
1
24.3
28.08
1017.4
23.01.2017 18
1.1
24.2
25.92
1016.2
24.01.2017 00
0.1
25
27
1018.3
24.01.2017 06
0.1
27
29.88
1015.2
24.01.2017 12
0
24.5
21.24
1018.3
24.01.2017 18
0
23.9
18.36
1016.6
25.01.2017 00
0
24.9
21.6
1018.4
25.01.2017 06
0.1
27.6
23.4
1015.2
25.01.2017 12
0
24.2
16.56
1017.5
AVERAGE
2.0952
25.38
18.72
1016.30
LIGHT/DRIZZLE
MODERATE
HEAVY
VERY HEAVY
INTENSE
TORRENTIAL
<![if supportMisalignedColumns]> <![endif]>
JANUARY 20, 2016 1045PM (GOOD FOR 12HRS)
SYNOPSIS: RIDGE OF HIGH AND NE WINDFLOW OVER LUZON, WIND CONVERGENCE OVER VISAYAS AND MINDANAO
ENVIRONMENTAL CONDITION
850mb VORTICITY(×10-6/s): +10 (VERY WEAK) Visayas.
VERTICAL WINDSHEAR(in kt): 15-50kt SE-SW, LIGHT-STRONG (STEADILY INCREASING for the past 24hrs).
LOW LEVEL INFLOW (CONVERGENCE): 5kt LOW LEVEL INFLOW over Visayas (weak ascending air) with weak upper level inflow (descending air) over Luzon and Northern Mindanao
UPPER LEVEL OUTFLOW (DIVERGENCE): 5kt UPPER LEVEL OUTFLOW eastern section of the country (pressure steady)
TROPICAL PRECIPITABLE WATER (in mm tropical moisture): +40mm Visayas and Mindanao with drier air over Luzon
COLDER THAN -40°C (in % for DEEP CONVECTION): 60-80 over Southern Luzon, Visayas and Mindanao (deep convection)
AVERAGE MINIMUM SEA LEVEL PRESSURE (SURFACE IN MB): 1011-1021mb
AVERAGE WEEKLY SST INDEX (EASTERN EQUATORIAL PACIFIC): 0.196°C (RISING, +0.017°C)
MADDEN JULIAN OSCILLATION AMPLITUDE: +1.956 [(MODERATE MJO) PHASE 1 WESTERN HEM AND AFRICA going UP by 0.414]
ANALYSIS AND FORECAST
1. Visayas and Mindanao expected to have some wet weather or thunderstorm activity mostly over Eastern section while Luzon continues to have dry and cold weather as newly surge NE wind penetrates over the said area.
2. 25-30kt(46-56km/hr) from NE expected over extreme northern Luzon, becoming 15-20kt (28-37km/hr) over rest of Luzon and Visayas while 10kt(19km/hr) over Mindanao from NE-N. Coastal waters over Luzon expected to be moderate to rough mostly over Northern portion, dangerous to small type of seacraft. Coastal waters over Mindanao on the other hand will be light and waters wont be dangerous to any type of sea craft.
3. 24hrs rainfall:
a. +45mm over Eastern Visayas, and eastern CARAGA.
b. +15mm over the rest of Visayas and Mindanao.
4. 72hrs rainfall:
a. +100mm over eastern portion of Southern Luzon, Samar, Eastern portion of Bicol and CARAGA.
b. +45mm over NCR, CALABARZON, rest of Bicol and Southern Luzon, including Southern Palawan, portion of Northern Mindanao and rest of CARAGA, rest of Eastern Visayas including eastern MIMAROPA.
5. Overall, Increasing rainfall pattern is likely due to renewed surge of NE windflow within the next 72hrs.
FORECAST MODELS/TROPICAL CYCLONE UPDATE
As of 0600Z,
1. Neither tropical cyclone formation nor tropical disturbance expected for the next 5 days, however, model guidance continues to suggest possible tropical disturbance formation along 3-5N, 130-135E after 120hrs.
BELOW ARE PHILIPPINE DOPPLER RADAR ANIMATION, 10 DAY FORECAST AND SELECTED PHILIPPINE CITIES 3 DAY RAINFALL FORECAST
| | |
| --- | --- |
| METRO MANILA STATION | BAGUIO STATION |
| APARRI STATION | SUBIC |
| TAGAYTAY | BALER STATION |
| VIRAC STATION | CEBU STATION |
| HINATUAN STATION | SOUTH COTABATO |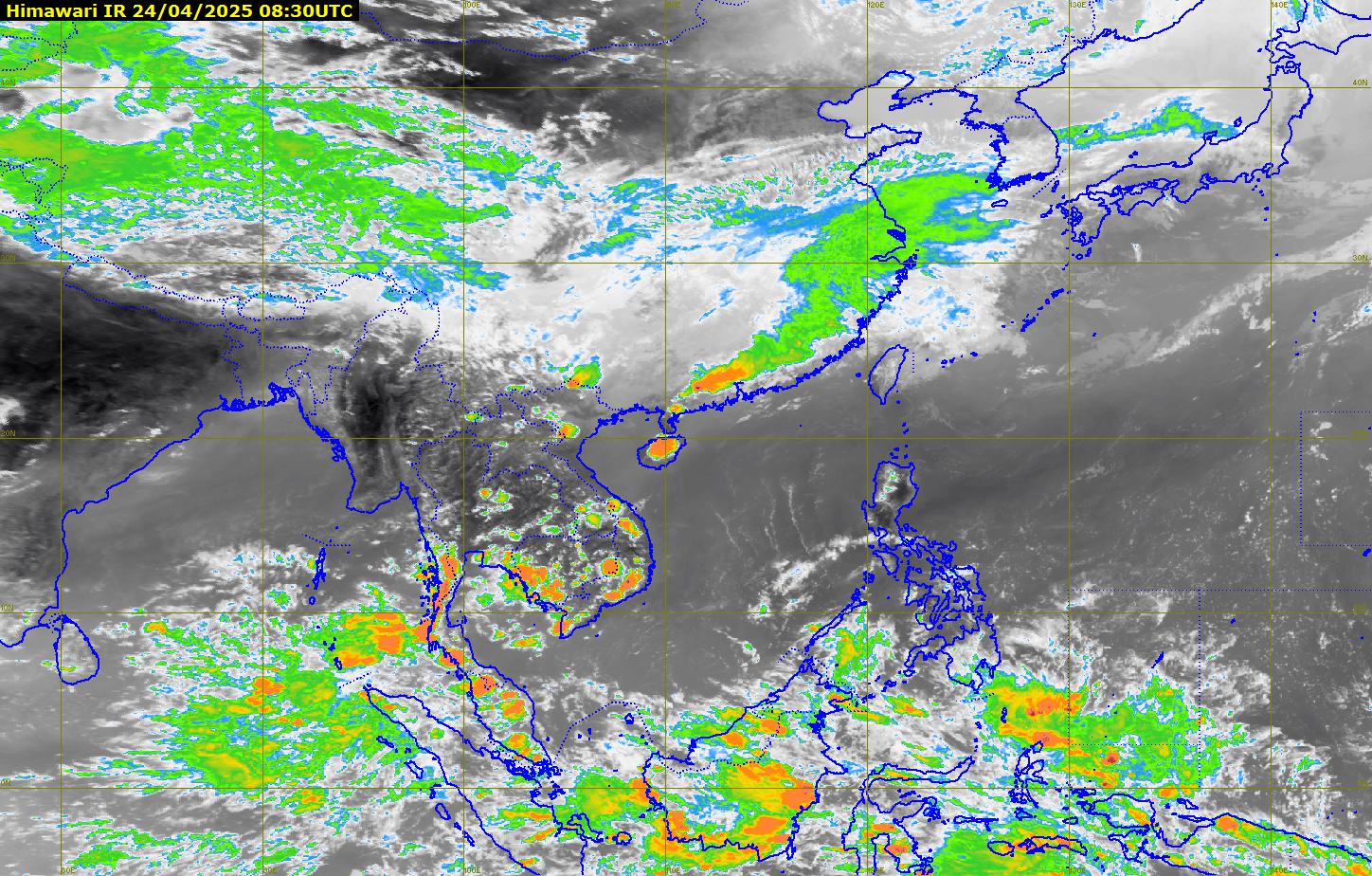 10MIN CLOUDTOP IMAGERY (FOR THUNDERSTORM CLOUD)

ANIMATED WATER VAPOR IMAGERY
10 DAYS RAINFALL FORECAST


12HRS

24HRS

36HRS

48HRS

60HRS

72HRS

84HRS

96HRS

108HRS

120HRS

132HRS

144HRS

156HRS

168HRS

180HRS

192HRS

204HRS

216HRS

228HRS

240HRS


PHILIPPINE CHART AND REALTIME WIND


SEA LEVEL PRESSURE AND SURFACE WIND
10 DAYS WIND FORECAST


12HRS

24HRS

36HRS

48HRS

60HRS

72HRS

84HRS

96HRS

108HRS

120HRS

132HRS

144HRS

156HRS

168HRS

180HRS

192HRS

204HRS

216HRS

228HRS

240HRS


RELATIVE VORTICITY (UPDATED EVERY 3 HOURS)
Vorticity is a measure of curvature in atmospheric flow. A positive value indicates counter clockwise motion in the northern hemisphere and lockwise motion in the southern hemisphere. A positive vorticity environment is conducive to storm development.
WESTERN PACIFIC ANIMATED PRECIPITABLE WATER
DISCLAIMER: These are based on forecast models and realtime charts and imageries and not as an official update. Please don't use this as an official forecast unless official agencies issued warnings or updates. All informations and updates are supported by different data gathered from different agencies which well-analyzed by the author. All imageries are real time and only forecast is subject to changes by author.
CREDITS: weather-forecast.com, Naval Research Laboratory, NOAA, WEATHER ONLINE, PAGASA-DOST, CNN WEATHER, CIMSS
Layout and Discussions Prepared by: Jermaine Christopher Gaines (© 2016 All rights reserved)